Meetings
Swale Youth Forum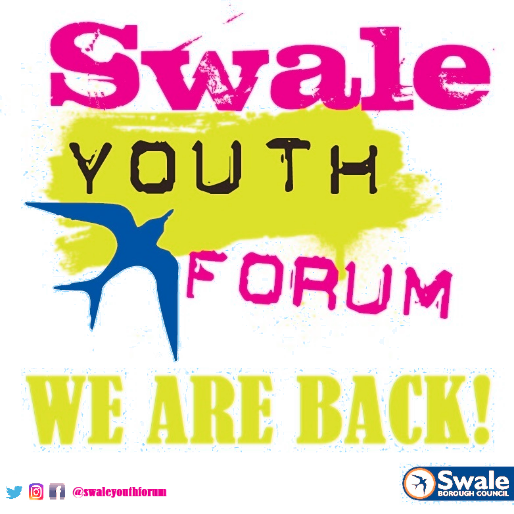 Swale Youth Forum meets six times a year. These meetings provide the young people of Swale with an opportunity to discuss current issues with relevant agencies.
Swale Youth Forum helps young people in Swale aged between 11 and 19 to get their voice heard and, with social media links, the opportunity to say what concerns them all year round. It also gives them a chance to learn new skills and get involved in resolving those issues that matter most to the young people of the borough.
We will be looking to restart the forum in September 2021, now more than ever we want to be able to offer a platform to the voices of the young people in Swale to be heard.
The first Swale Youth Forum meeting was held on 15 March 1994 and has continued to enable young people in Swale to identify, discuss and debate local issues together with areas of concern that they considered were important. Every year the Mayor and Councillors from across Swale serve as representatives on the Forum. This enables concerns and issues raised by the delegates to be taken back to the Council for action and ensures that the Forum has a voice which is heard by the Council.
All secondary schools within Swale are invited to attend and take turns in providing a Chairman to lead the Forum. The Forum has links and works closely with Kent County Council Youth Services and in particular the Swale Youth Advisory Group.
The agenda for each forum will be set the month before, anyone wishing to submit an item for inclusion should contact our Community Services Team.
Follow Swale Youth Forum on Instagram, Facebook & Twitter!
Next meeting
Wednesday 22 September, 2021 in the Council Chamber, Swale House.
Future meetings
Wednesday 10 November, 2021
Wednesday 15 December, 2021
Wednesday 9 March, 2022
Wednesday 27 April, 2022
Wednesday 29 June, 2022
More information
For more information contact Steph Carbutt via email communitydevelopment@swale.gov.uk or phone 01795 417144.
Minutes and agendas
You can download the: