The Mayor's Office
Deputy Mayor of Swale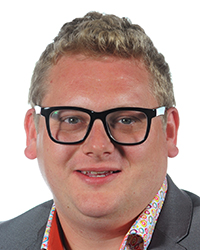 Deputy Mayor of Swale, Cllr Ben Martin.
Ben Martin was born and raised in Faversham. He was raised in social housing along with his 3 brothers and sister. Ben attended Ethelbert Road School, St Mary of Charity Junior School and the Abbey School in Faversham prior to attending college and university in Canterbury, where he Studied for a Diploma in Business Management with Environmental Sustainability, graduating with merit.
Ben is dyslexic and has long campaigned for schools to be given adequate resources to diagnose and support dyslexic students to achieve their full potential.
Ben has over a decade of experience in retail and hospitality management, and now works in the social housing sector. Away from work Ben has a been involved in many local organisations as a volunteer, including as a previous Child Welfare Officer for Faversham Cricket Club, as a Trustee of Faversham pools and Bensted's charity. He is also a director of Swale Rainbow Homes. He is a keen fundraiser taking part in the Canterbury Half Marathon, and in 2018 completing the 3 peaks challenge, raising over £5,000 to build a school in Ethiopia.
First elected as a Faversham Town and Swale Borough Councillor for Watling Ward in 2019, Cllr Ben J Martin played an active role in the previous Rainbow coalition administration as leader of the Lib Dem group from 2019-2023 and serving as Cabinet Member for Housing and later chair of the Housing & Health Committee.
He was elected Deputy Mayor of Swale in May 2023.